PRESS
Cover Story in Luxe Interior + Design Magazine
Designer Vickee Byrum had a good head start in helping her clients reimagine their three-story abode near downtown Austin. She had teamed up twice before with the owners, empty nesters who relocated from outside the city to enjoy downtown views and a walk-to-dinner lifestyle. In reuniting to collaborate on this project, Byrum sought to enhance the structure's architecture while conjuring evocative and inviting interiors. "The first time I saw the home with my clients, we christened it a jewel box among the trees," the designer recalls. "Every piece selected for the home was to be standalone beautiful, and we're grateful every artisan with whom we shared our vision embraced our goals."
A contemporary gem with expansive windows, sumptuous surfaces and a third-floor master bedroom, the residence captures views of heritage-oak treetops. "We decided to make only a few changes to soften the structure, because it was so well done," Byrum says. In recent years, the previous homeowners had initiated a total renovation carried out by a Dick Clark + Associates team that included architects Mark Vornberg and Kevin Gallaugher and residential designer Matt Garcia, who has since founded his own eponymous firm, along with structural engineering firm StructuresPE. For this project, Gallaugher returned to the residence with architect Kim Power, also with Dick Clark + Associates, to install handrails on the flat roof, add exterior stairs leading to the new rooftop deck and ensure code compliance for the new owners; construction manager Monty Jacobs of Jacobs General Contracting also helped with the new rooftop deck. "Adding a rooftop perch provided unobstructed views of downtown and allows the couple to enjoy sunsets and cocktails," Byrum says.
The scenery of the neighboring trees is also visible through floor-to-ceiling windows in the combined living, dining and kitchen area on the second floor, above the garage. The open space exudes warmth with an abundance of wood features, including walnut-clad cabinetry, a fireplace wall and mahogany window frames. To mitigate, if ever desired, the brightness of the natural light streaming through the windows, Byrum and the homeowners incorporated sheer off-white linen draperies. "We tried to work with color, sheen and texture to bring a sort of glow to the space," the wife says. Similar window treatments help conjure a luxuriously tranquil and soft feeling in the master bedroom, alongside elegant silk bedding, a Moroccan rug and a brass chandelier.
The look plays to the vision Byrum and the homeowners had for the project: "a sophisticated, elegant home reminiscent of a New York City pied-à-terre overlooking Central Park," she explains. This inspired the residence's overall color scheme, which leans heavily on blues and grays. While the kitchen's aqua tile backsplash was already in place, the rest of the palette reveals itself through pieces such as a blue velvet Holly Hunt sofa and light gray wool Herman Miller armchairs in the living room, a blue Ligne Roset sofa in the study and a gray granite tub in the master bathroom.
Byrum and the homeowners also prioritized standout lighting throughout the project, including custom pieces by lighting designer Mark Figueredo. Above the dining table hangs a stunning chandelier he created with vertical stainless-steel tubes embedded with xenon bulbs. "I had this image in my mind of the chandelier resembling twinkling lights--like stars--to anyone viewing the house from outside at night," Byrum explains. Another hanging light Figueredo designed, this one for the study, features Mitsumata branches delicately and artfully assembled around a blown-glass orb. "It creates this fractured effect that is unbelievable," Byrum says.
Turning her attention to the outdoor areas--an especially critical component for the husband, who prioritizes spending time outside--Byrum enlisted the expertise of landscape designer Bill Roberts of 3 Phase Design Studio. "When my clients purchased the house," she recalls, "the only usable and accessible outdoor spaces were the decks on the second and third floors." In response, Roberts created an outdoor living space in a previously unusable area behind the home, where a Brazilian ipe wood wall now gives way to tricolored limestone paving, a fountain and Fibonacci lounge chairs. The husband now enjoys strumming his guitar in this space on Austin's many warm days.
Whether relaxing together at home or entertaining friends and family, the homeowners relish being nestled among the trees, cocooned in the serenity of their bespoke and inviting home--with all the offerings of downtown Austin just steps away. "The house is really an oasis," the wife says. "It's modern without coldness and has a feeling of calm. It's wonderful to have someplace so serene to call home."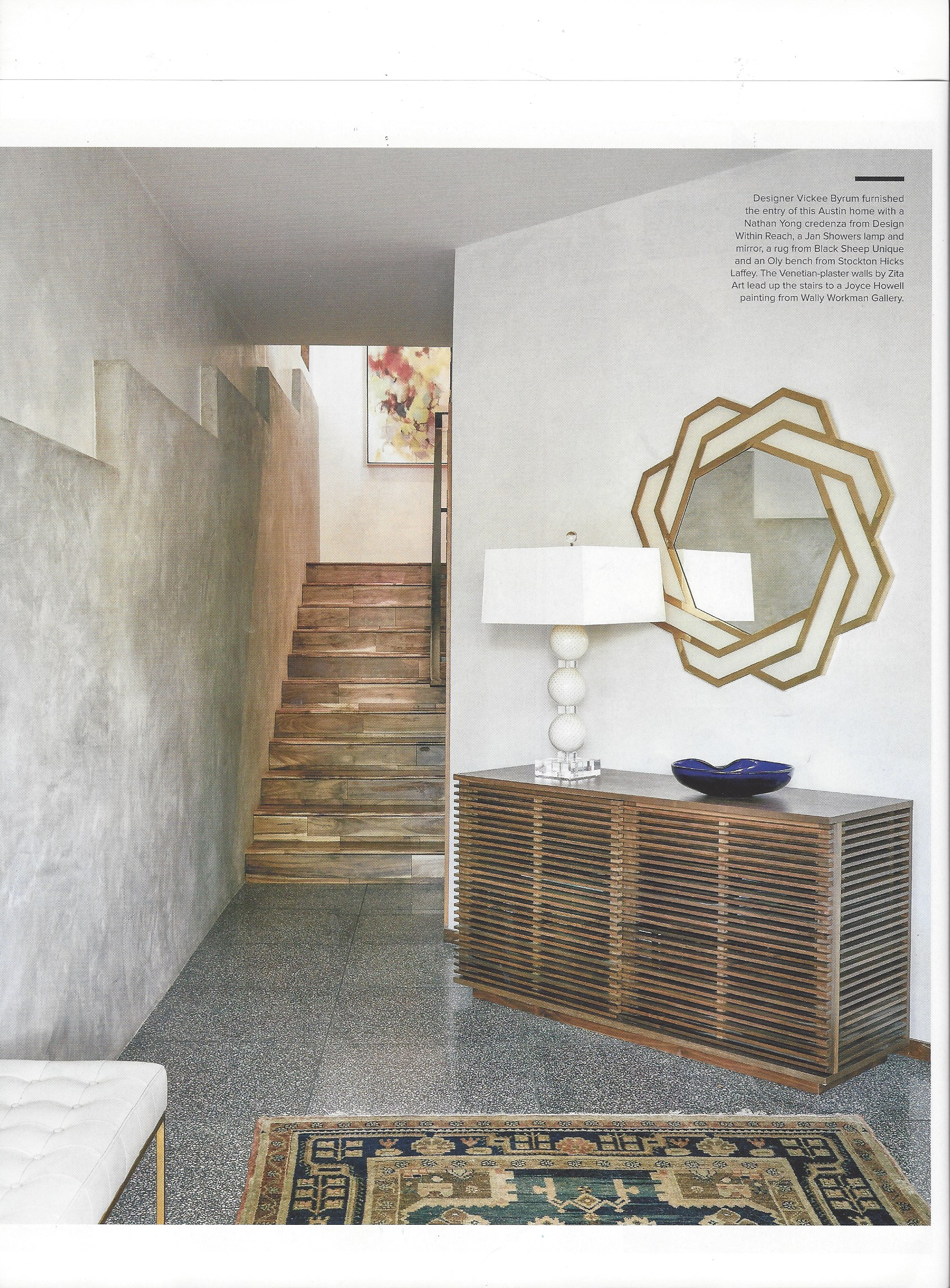 Vickee Byrum of Yellow Door Design Selected as One of the 25 Best Interior Designers in Texas by The LuxPad
"Texas is the second largest state in America – both by area and population. It is a state full of beauty, culture and authenticity; from Houston and Austin's urban scenes to San Antonio's River Walk and the picturesque views of the Franklin Mountains. Many interior designers believe that a person's travels and life experience has the power to influence individual design style, and this certainly seems to be the case in Texas.
The LuxPad has selected what we believe to be 25 of the best interior designers in Texas to showcase their talents and inspire you on your own interior design journey. With interiors being influenced by an abundance of styles from ranch living to modern trends, there is something for everyone to be found in this inspiring list."
Feature in Home Design and Decor Magazine
"When Austin homeowners decided to open a business in Santa Fe, they began looking for a home where they could seamlessly ease into their new surroundings in the Land of Enchantment. They turned to their go-to Austin designer, Vickee Byrum of Yellow Door Design, to help them with this latest project. By combining an impeccable sense of style with practical needs for entertaining and an appreciation for local art, the results are, well, enchanting."